On 5 July 1945 Australians awoke to the news that the Prime Minister, John Curtin, had died in the early hours of the morning. The news was not unexpected, as Curtin had been unwell for some months. After several weeks in hospital he had returned to the Lodge in late May where he remained, with his wife Elsie in attendance, for the last days of his life. His death occurred after the first edition of the daily papers were printed, but was announced on the 6.00am radio bulletins, and in the later editions of newspapers.
Acting Prime Minister Forde spoke to the House of Representatives –  Australia has lost her greatest son, and all Australia will mourn today (The Sun, 5 Jul 1945, p1).
Special Government Gazette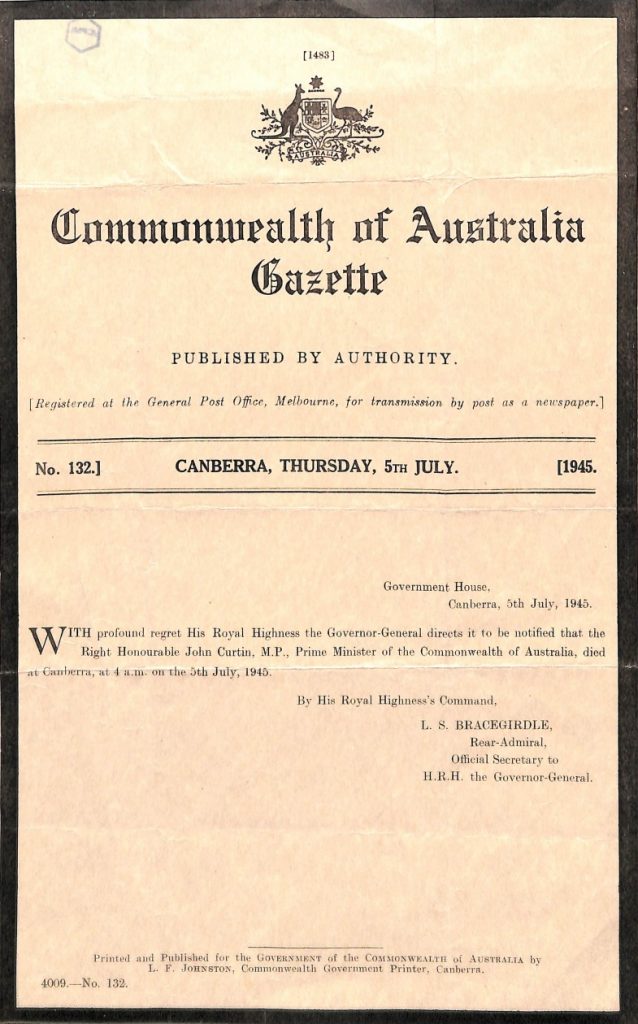 With the death of the Prime Minister a number of official procedures needed to be enacted. One of the first was the printing of the Government Gazette on the same day. A single page outlined in black, the Special Gazette for the official announcement of a Prime Minister's death had only been necessitated on one occasion previously with the death of Prime Minister Joseph Lyons in 1939.
Memorial service
Organisation of memorial services also commenced quickly. The following day the National Memorial service for John Curtin was held in Parliament House, where elected members of both houses paid their respects at the lying in state in King's Hall. Services and tributes were held in many Australian towns and cities, and Westminster Abbey on 18 July.
The State funeral was conducted in Western Australia on 8 July. 50,000 people were reported to have lined the roads from Cottesloe to Karrakatta to witness the procession of the cortege.
Death and victory
Curtin had served as Prime Minister for three years, 272 days, during which time Australian troops were continually deployed in the conflicts of World War II. While victory in Europe had been declared in May, Curtin did not live to see the final end to the war in the Pacific. Six weeks after Curtin's death, on 15 August his successor Prime Minister Ben Chifley announced the surrender of Japan and the end of the Second World War.
References
Commonwealth Gazettes from 1901 Historical Gazettes
The Museum of Australian Democracy Prime Ministers