The Eureka Stockade
Among the Curtin Library Special Collections and rare books are a number of limited editions and works published by private presses. This week's object is a private press book selected from the personal library of John Curtin, The Eureka Stockade published by Sunnybrook Press in 1942, JCPML00453/98. Copy no. 36 of 150 was given to Curtin during 1942 by Herbert Evatt, Attorney General and Minister for External Affairs in the Curtin government, who also wrote the introduction to the edition.
First published in 1855, The Eureka Stockade: the consequence of some pirates wanting on the quarter-deck a rebellion by Raffaello Carboni is the only firsthand published account of the events at the Eureka rebellion episode of 1854. Raffaello had come to Australia to join the Victorian gold rush in 1852 and was at Ballarat during the clash between the soldiers and the miners on the morning of 3 December 1854. He was one of twelve men arrested, and spent four months in gaol awaiting trial. His story concludes following his trial for high treason, acquittal, and subsequent release. Raffaello published his account on the first anniversary of the Rebellion at Eureka, before returning to Italy where he continued to write, mostly plays and musical works.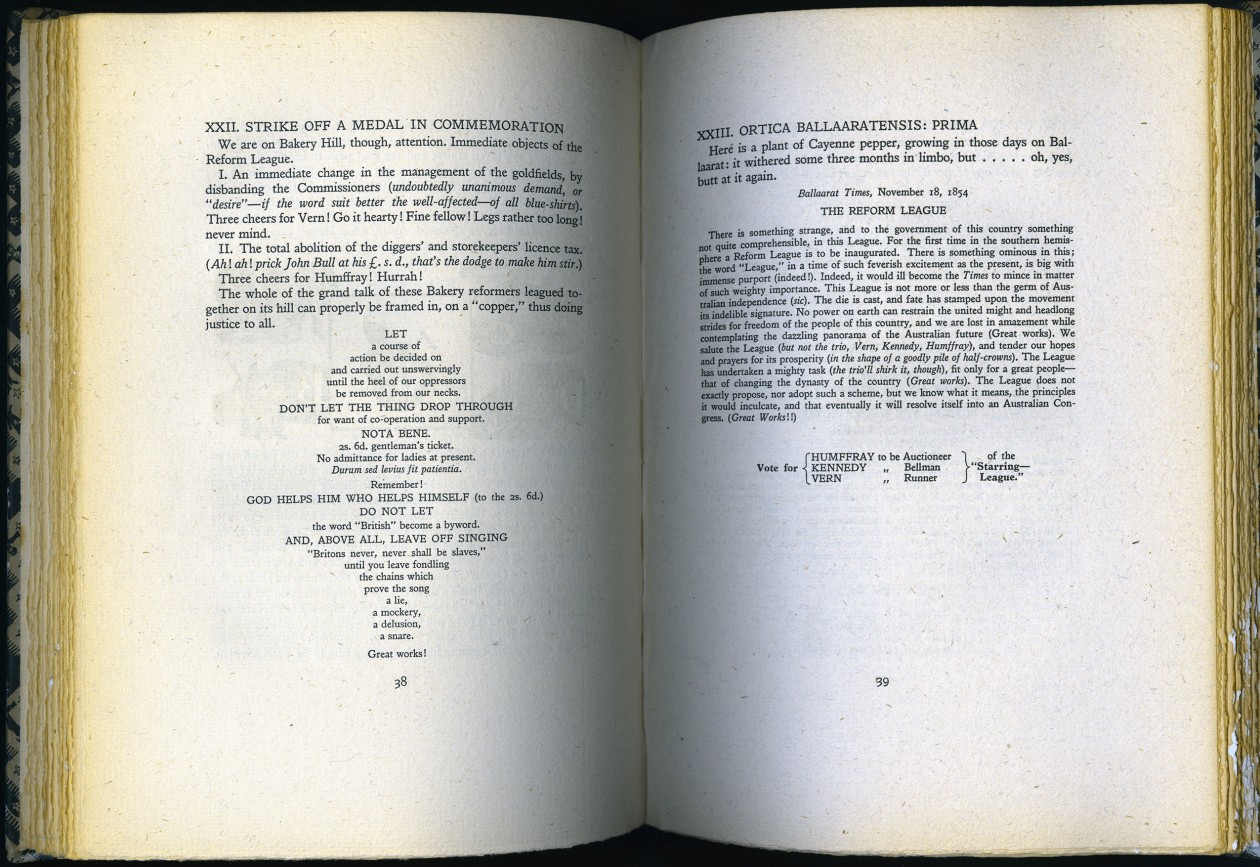 Sunnybrook Press
Private or fine press publications celebrate books as works of art and skillful craftsmanship with typically small print runs. The Sunnybrook edition of 1942 is a work that was produced unhurriedly, to showcase the craft of the writer, the artist, and the printer. The Press was established in 1931 by Ernest Shea, who first learned the printing trade while living in Subiaco in Western Australia. Shea taught printing at the Sydney Technical College and worked on the book during his spare time, assisted by his wife, at their home in at Mosman. Eureka Stockade took about five years of 'leisure hours' to complete the printing and binding. This edition included artwork created by William E Pidgeon, a well known cartoonist and later three times winner of the Archibald Prize.  Sunnybrook Press was one of the few private presses in Australia operating during the Depression, and the surviving copies of Sunnybrook's publications are fine examples of the Shea's commitment to artistic endeavour in book production.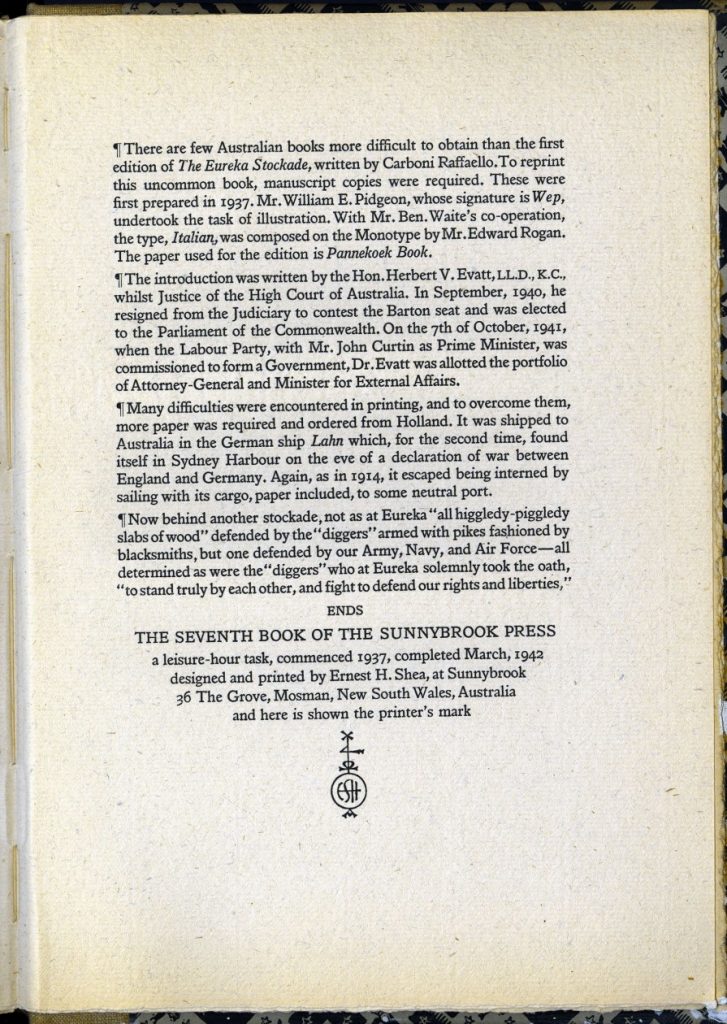 The first edition of Carboni's 1855 book is available online at  The Eureka Stockade.
Information about the author, printer and artist of The Eureka Stockade was sourced from the Australian Dictionary of Biography entries: