Curtin Library holds a significant collection of children's books. The oldest date from the middle 19th century to the early 20th century and are stored in the John Curtin Prime Ministerial stacks with the rare book collection. In the lead up to Children's Book Week we've been taking a closer look at some of these. On the shelves near Little Lord Fauntleroy and The Wizard of Oz we found this beautifully illustrated edition of Thirty old time nursery songs.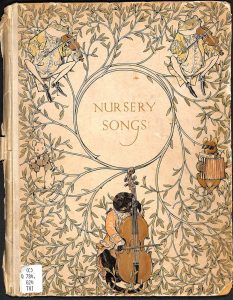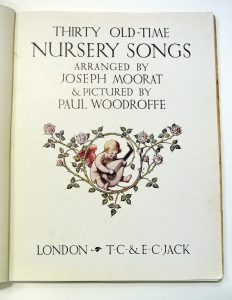 Published in 1907, this book is a collection of English folk songs set to music arranged by Joseph Moorat and with artwork by Paul Woodroffe. Woodroffe was a prolific artist who was trained at the Slade, and applied his talents to both book illustration, and the many commissions he received to design stained glass windows.  As a member of the Art Worker's Guild he was closely involved with other artists in the Arts and Crafts community in Chipping Campden. Joseph Moorat was a composer and brother in law to Woodroffe. Both men contributed to a number of publications and the influence of the Arts and Crafts Movement may be seen in many of these.
Thirty old time nursery songs was first published by T.C & E.C. Jack, of London. Sales must have been successful as there were several reprints, and the book was advertised in the West Australian as late as 1929. Reviewed in the Burlington Magazine for Connoisseurs, V12 N57 Dec 1907, the first edition was sold for 5s. The reviewer praised the choice of songs and pretty pictures, and for a single point of difference with similar works – the words and music were 'clearly printed in black ink'.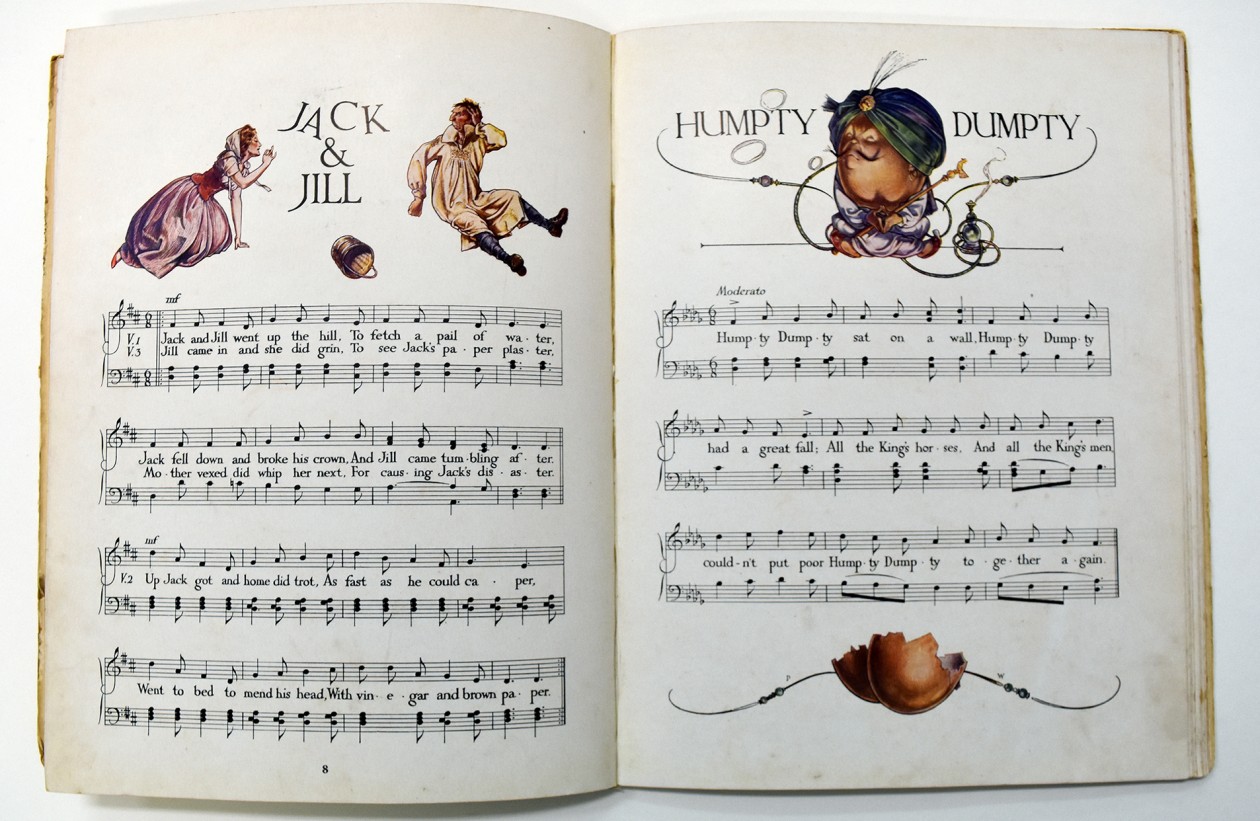 In 1980 Thirty old time nursery songs was reprinted by the Metropolitan Museum of Art, using the original artwork Woodroffe first created in 1906 and 1907. The Museum now holds an archive of 41 of the drawings. You can view these, which include Woodroffe's annotations, by searching for the artist at their website.