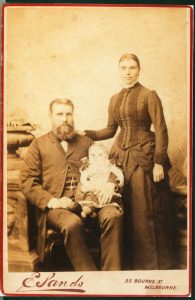 This week's object is a photograph chosen for the birthday of the University's namesake, Prime Minister John Curtin.
John Joseph Ambrose Curtin was born on January 8th, 1885 in Creswick, Victoria, the first child of John Curtin and his wife Kate (nee Bourke). His parents had migrated from Ireland before meeting then marrying in Melbourne. This sepia photograph, known as JCPML00376/212 in our collection,  features the new parents with baby John and was taken in 1885 at the studio of E. Sands of Bourke Street, Melbourne.
The John Curtin Prime Ministerial Library collection is the largest of the University Library special collections. This significant collection includes many original documents relating to John Curtin, Australia's 14th Prime Minister, uniquely personal items and more than  4500 photographs. Photographs taken during John Curtin's childhood are some the oldest in the Library special collections.
The John Curtin Prime Ministerial Library was opened in 1997, a notable milestone in the development of the University. John Curtin was  Australia's 14th Prime Minister, and the only person yet to have served in the position as a West Australian Member of Parliament. Find out more about John Curtin and the JCPML collection at http://john.curtin.edu.au/